Obtenez plus de détails sur le nouveau voyage podcast et la mise en service des affaires de podcast
Cullen Pope est un star et l'hôte de The EATT Magazine, Travel Podcast et Silicon Beach Radio.
Son approche face à face rapide, enthousiaste et parfois impatiente est bien connue.Dans sa série de podcast le plus récent. Cullen "couper à la chasse" "l'envelopper dans un coquille de noix" un style d'interview fait pour les conversations divertissantes et éducatives.
Ses intérêts balancent sauvagement entre la culture de démarrage et le financement participatif,La cassure récente de Cullen dans un nouveau podcast de démarrage sur http://siliconbeachradio.com/ un podcast par startups pour les startups au sujet de startups, a rapidement rassemblé à un public avide et suivant en ligne fidèle.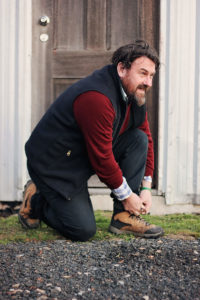 Sa passion pour les gens, voyage et whisky dans la deuxième saison du podcast de voyage à https://eattmag.com/category/travel-podcasts/ le trouve voyager autour de Hobart, Tasmanie, Australie interviewant des personnages locaux entre whiskies, vins et visites où il se complaît dans la découverte des secrets parfois incalculables de cette destination unique.
Les spectacles à venir comprennent des interviews autour de Melbourne, en Australie avec une saveur distincte qui est présenté sur son nouveau canal de youtube The Cullen Show https://www.youtube.com/user/EATTMagazineonline
Où les vidéos apparaissent avec des sous-titres en plusieurs langues pour ses auditeurs, où l'anglais est une langue seconde qui se révèle populaire pour les gens qui veulent améliorer leur anglais dans le cadre du programme des nouveaux canaux sur l'éducation pour les gens occupés.
Les deux podcasts sont sur iTunes pour tous les appareils apple ios et de piqueuse soundcloud ou le spreaker pour android et tous les autres téléphones, tablettes et ordinateurs PC avec des liens complets ci-dessous.
L'application gratuite est également disponible pour le téléchargement sur l'Apple Store et aussi sur l'Android via les liens ci-dessous.
https://itunes.apple.com/fr/app/eatt-magazine-for-environment/id713476373?mt=8&ign-mpt=uo%3D8
https://play.google.com/store/apps/details?id=com.bdhjecceih.gfabdhjecceih
Follow us now on LinkedIn
http://www.linkedin.com/company/eatt-magazine-for-ipad-and-iphone-5
Check out our website
https://eattmag.com/
Find us on facebook
https://www.facebook.com/eattmagazine
Follow us on twitter
https://twitter.com/EATTMagazine
See our latest story boards on Pinterest
http://www.pinterest.com/eattmagazine/
Jump into Google + with us
https://plus.google.com/+EattmagforiPad/posts
Comment and connect on Instagram
http://instagram.com/eattmagazine#