Hol dir mehr Informationen über den neuen Reise-Podcast und den Startup-Podcast.
Cullen Pope ist Star und Veranstalter von The EATT Magazine Travel Podcast und dem Silicon Beach Radio.
Sein schneller, enthusiastischer und manchmal ungeduldiger Person-zu-Person-Ansatz ist weit bekannt. In seiner neusten Podcast-Serie unterhält und belehrt Cullen mit seinem "auf den Punkt" und "Nagel auf den Kopf" Interview-Style.
Seine Interessen sind vielfältig zwischen der Startup-Kultur und dem Crowdfunding angesiedelt. Sein jüngster Ausbruch mündete in einen neuen Startup-Podcast auf
http://siliconbeachradio.com/ einem Podcast von Startups für Startups über Startups und hat schnell eine große Hörerschaft und loyale Online-Follower angezogen.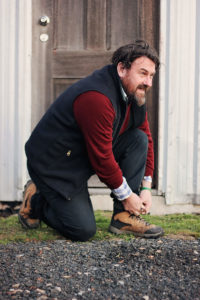 Seine Leidenschaft für Menschen, Reisen und Whiskey in Staffel zwei des Reise-Podcasts auf https://eattmag.com/category/travel-podcasts/ zeigt ihn auf Reisen in Hobart, Tasmanien, Australien beim Interviewen lokaler Charaktere zwischen Whiskey, Wein und Sightseeing, wo er manchmal die ungelüfteten Geheimnisse dieser einzigartigen Ziele enthüllt.
Zukünftige Shows beinhalten Interviews in der Gegend um Melbourne, Australien mit einem besonderen Geschmack, der auf seinem neuen Youtube-Kanal The Cullen Show https://www.youtube.com/user/EATTMagazineonline vorgestellt wird. Hier werden die Videos mit Untertitel in verschiedenen Sprachen für seine Zuhörer angeboten, deren zweite Sprache Englisch ist, was sich als ziemlich beliebt bei denen herausgestellt hat, die Ihr Englisch verbessern wollen und ist als Bildung für Vielbeschäftigte Teil des neuen Programmes des Kanals.
Beide Podcasts sind auf iTunes für alle Apple iOS-Geräte erhältlich und auf Soundcloud, Stitcher oder Speaker für Android und alle anderen Mobilgeräte, Tablets und PCs mit den vollen Links weiter unten.
Die kostenlose App ist auch zum Download im Apple Store und für Android über den folgenden Links erhältlich:
https://youtu.be/xmR0cim7ehw?list=PLBWQHk8XBHKqAzLXS7vcyWytnnSvdSSYu
https://itunes.apple.com/de/app/eatt-magazine-for-environment/id713476373?mt=8
https://play.google.com/store/apps/details?id=com.bdhjecceih.gfabdhjecceih
Check out our website
https://eattmag.com/
Find us on facebook
https://www.facebook.com/eattmagazine
Follow us on twitter
https://twitter.com/EATTMagazine
See our latest story boards on Pinterest
http://www.pinterest.com/eattmagazine/
Jump into Google + with us
https://plus.google.com/+EattmagforiPad/posts
Comment and connect on Instagram
http://instagram.com/eattmagazine#