Veja mais detalhes sobre os novos podcasts de viagens e startup de negócios.
Sobre Cullen o editor da EATT Revista
Cullen Pope é a estrela e o apresentador do podcast da revista de viagens The EATT Magazine e da rádio Silicon Beach.
Sua abordagem pessoal rápida, entusiasta e, algumas vezes impaciente, é bem conhecida.
Em sua mais recente série de podcasts, o estilo de entrevista "direto ao ponto" e simplista de Cullen gera conversas divertidas e educativas.
Seus interesses variam entre cultura startup e crowdfunding.
O recente início de Cullen em um novo podcast em http://siliconbeachradio.com/ um podcast de startups por startups para startups sobre startups, rapidamente reuniu uma audiência ávida e leais seguidores online.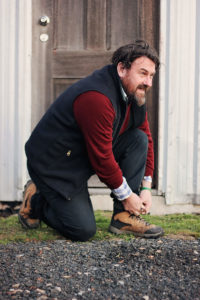 Sua paixão por pessoas, viagens e uísque, na segunda temporada do podcast de viagens em https://eattmag.com/category/travel-podcasts/ faz com que viaje por Hobart, Tasmânia, Austrália, entrevistando personagens locais, entre uísques, vinhos e turismo onde ele se deleita em descobrir os segredos, algumas vezes inéditos, deste destino único.
Os próximos shows incluem entrevistas ao redor de Melbourne, Austrália, com um sabor distinto, que está sendo apresentado em seu novo canal do Youtube, o The Cullen Show https://www.youtube.com/user/EATTMagazineonline onde os vídeos aparecem com legendas em vários idiomas para seus ouvintes para os quais o Inglês é a segunda língua e que está se mostrando popular para pessoas que querem melhorar seu Inglês, como parte do novo programa de educação para pessoas ocupadas.
Ambos os podcasts estão no iTunes para todos os dispositivos Apple iOS e Soundcloud Stitcher ou Spreaker para Android e todos os outros telefones, tablets e PCs com links completos abaixo.
O aplicativo gratuito também está disponível para download na Apple Store e também para Android, através dos links abaixo.
https://itunes.apple.com/pt/app/eatt-magazine-for-environment/id713476373?mt=8
https://play.google.com/store/apps/details?id=com.bdhjecceih.gfabdhjecceih
Follow us now on LinkedIn
http://www.linkedin.com/company/eatt-magazine-for-ipad-and-iphone-5
Check out our website
https://eattmag.com/
Find us on facebook
https://www.facebook.com/eattmagazine
Follow us on twitter
https://twitter.com/EATTMagazine
See our latest story boards on Pinterest
http://www.pinterest.com/eattmagazine/
Jump into Google + with us
https://plus.google.com/+EattmagforiPad/posts
Comment and connect on Instagram
http://instagram.com/eattmagazine#